2019
Coach outing to The Savill Garden and Windsor Great Park
Tuesday 30th April 2019
Cost: £25, including entry to the garden, contact David Mussell.


In the 1930s, master landscape gardener Sir Eric Savill created one of England's greatest woodland gardens on a little used area of Windsor Great Park. Planted to celebrate horticultural excellence, The Savill Garden is now 35 acres of interconnected gardens include the Hidden Gardens, Spring Wood, the Summer Gardens, the New Zealand Garden, Summer Wood, The Glades, Autumn Wood and the Winter Beds. It is designed for year-round appeal with colourful displays, rare plants and interesting features such as herbaceous borders, sculpture and the Temperate House. A curving, raised walkway floats above the rose garden for true appreciation of the intense aromas created by 3,500 planted roses. Annual garden highlights include spring's Azaleas and Rhododendrons, summer's roses, autumn's maples and winter's stems, fruits and evergreens.
Trips You've Missed…
2018…
Coach (and Ferry) outing to Ventnor Botanic Gardens, Isle of Wight
Tuesday 26th June 2018
Cost: £25, including entry to the gardens, contact David Mussell.
YOU'VE MISSED IT! SEE PHOTOS AND A FULL REPORT HERE…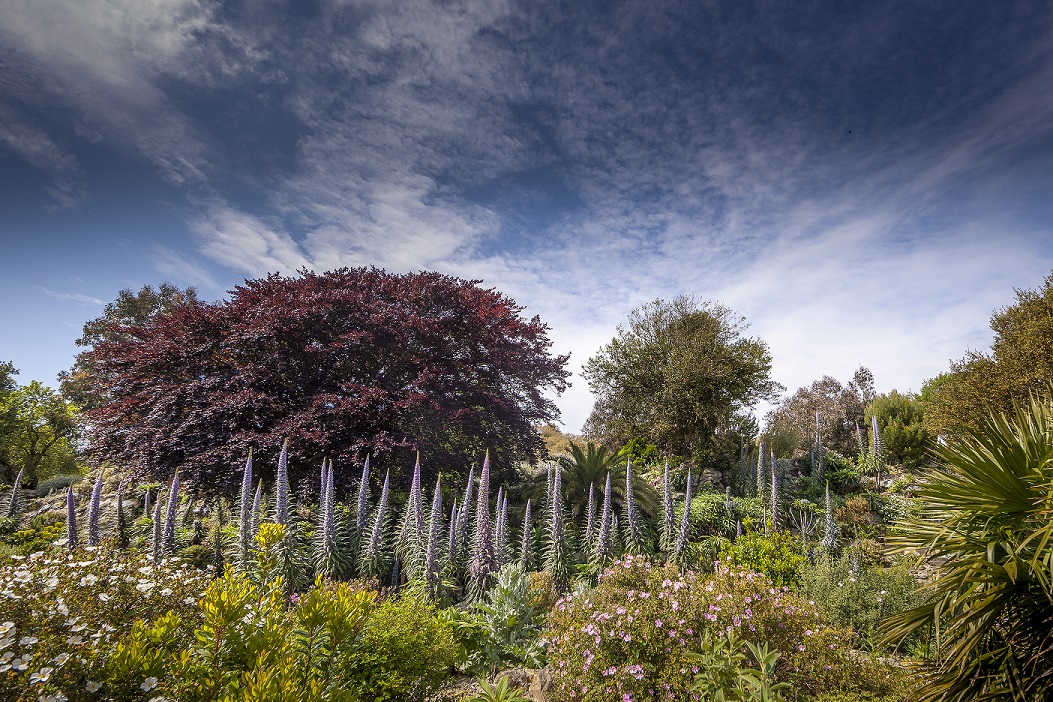 Ventnor Botanic Garden lies in the remarkable microclimate at the heart of the famous 'Undercliff.' This unique garden is protected from the cold northerly winds by chalk downs. Indeed, it holds the warmth from its southerly aspect so well that, combined with the moderating influence of the sea, frost is rarely known. When frost does occur it is usually of short duration and not great severity.
With an average rainfall of 28 inches its climate is more akin to the Mediterranean. This enables a wide variety of plants considered too tender for much of mainland Britain to be grown.
The Garden is unrivalled for its collections of subtropical plants grown unprotected out of doors.
https://www.botanic.co.uk/
2017…
Coach Outing to Bowood House and Gardens,
and The Courts Garden
Thursday 7th September 2017
Cost: £25, including entry to both gardens and Bowood House, contact David Mussell.
Bowood House and Gardens
Your ticket will include a visit to Bowood House, the stunning Georgian House set in a "Capability Brown" landscape.
Awarded the HHA/Christies "Garden of the Year" as recently as 2014, the formal terraces and gardens near the House provide abundant colour throughout the season. The 100 acres of "pleasure grounds" include an arboretum, cascade, doric temple, the Hermit's Cave and a lake.The gently sloping lawns provide distant views of the chalk downloads of Wiltshire.
The House, with Robert Adam interiors, has lots to see including an orangery, stables, chapel, a laboratory where oxygen was discovered, library, sculpture gallery and an exhibition room.
Refreshments are available in the Treehouse Cafe and Stables Restaurant.
The Courts Garden

A short distance away and, in direct contrast to the grandeur of Bowood, The Courts Garden is a little gem.
A delightful and unusual English country garden. Just 7 acres of interconnecting rooms, with lopsided topiary, bulging yew, eccentric box shapes, a formal canal, pool and lawns all setting off the flowers perfectly.
Based originally on a Hidcote inspired model, the gardens now reflect the work of more recent gardeners, surprising at every turn.
The small arboretum is home to trees from all over the world, and a pretty spot to enjoy a picnic, should you be looking for an alternative to the lovely tearooms.
2016…
Forde Abbey and Knoll Gardens
14th September 2016
We visited two wonderful gardens in a single day at the amazing all-in price of only £25.
Forde Abbey has 30 acres of beautiful gardens, together with a kitchen garden, water features, bog garden, rock garden and arboretum. With a nursery and a restaurant for light lunches etc. and entry to Forde Abbey (NT) itself, this promises to be a great start to the day.
Knoll Gardens is probably the best "grasses" garden in England; home of Neil Lucas who has won a string of gold medals at Chelsea, and  who is generally recognised as the country's leading ornamental grass expert. Its 4 acres is packed full of thousands of flowing grasses and perennial flower borders, renowned for their naturalistic style. Mediterranean, gravel and prairie gardening styles are evident together with stunning trees including Eucalyptus and Willow Oaks. A stunning horticultural experience to end the day, and at a time of year when the grasses are at their very best.