Forthcoming Talks
David Jewell – "The Hillier Gardens throughout the year"
Tuesday 24th September 2019, 7.30 pm. Hale Village Hall
David Jewell is Head of Collections at The Hillier Arboretum. Previously, David was Floral Superintendent at R.H.S. Wisley, and is a contributor to The R.H.S. Garden Journal. The Hillier Gardens and Arboretum were established by Sir Harold Hillier in 1953. Over many years, he assembled a remarkable collection, bringing together the most comprehensive and unrivalled collection of trees, shrubs and hardy plants in the UK. Sir Harold left the Gardens under the sole trusteeship of Hampshire County Council in 1977. It is now run as a charity under the remit of horticulture, conservation, education and recreation. Among its outstanding features are the splendour of the seasonal planting displays set in 180 acres.
Lyn Miles – "For the Love of Snowdrops"
Tuesday 29th October 2019, 7.30 pm. Woodgreen Village Hall
Lyn is a galanthophile (snowdrop-nut!) and has been giving talks to local gardening groups for over 15 years. She also opens her garden, Westcroft, just north of Salisbury, under the National Garden Scheme; starting in the Spring where she shows off her collection of over 200 named varieties, all set off by drifts of singles and doubles and other spring lovelies including hellebores and pulmonarias. The garden is rich in wildlife and was chosen to feature in the TV series "Wild Garden"
Snowdrops are among the first flowers to show in the new year and tell us that winter is ending and the warmer weather is not far away. They provide some of the earliest food for our native bees and other insects. Some varieties even flower in the Autumn so that you don't have to wait!
What better reason for giving this versatile plant a space in your garden, and whether or not you grow them already, join us to learn how Lyn, a recognised expert, grows hers.

Talks you've missed…
Rosy Hardy – "Spring flowering perennials"
Tuesday 19th March 2019, 7.30 pm. Hale Village Hall
Rosy Hardy started growing plants in 1988, after having been to a car boot sale in Ascot whilst clearing out her garage. She saw plants available for sale and came home and dug up the garden. From such small beginnings, a very successful nursery was born. Rosy moved to an amazing walled garden at Laverstoke Park and finally to a purpose built site at Freefolk. Now recognised as one of the UK's leading nurseries, Hardy's Cottage Garden Plants stocks over 1,200 plant varieties, including many rare and exciting species you'll simply never see in your average garden centre.
(see David Mussell's report of this fine talk )
Tom Stone – "Pruning is an art form"
Tuesday 23rd October 2018, 7.30 pm. Woodgreen Village Hall
Thomas was raised at Mottisfont, Hampshire, home of the world famous Mottisfont Abbey with its magnificent and horticulturally important rose gardens. His father David Stone VMH was Head Gardener, and young Thomas spent much of his childhood working in the grounds, naturally following his father's footsteps and becoming a staff member, learning his skills and training in the 'old fashioned' methods used by generations of previous gardeners.He started work at the equally famous Sir Harold Hillier Arboretum and Gardens in Hampshire, where he extended his knowledge into the world of trees, shrubs and wild flower meadows. Thomas became Head Gardener to a Private Estate in West Sussex, then Hampshire, creating gardens from wilderness, including vegetables, roses shrubs, herbaceous and cut flowers. Crucially, both of these gardens were subject to SSSI waterways (Site of Special Scientific Interest), and the works involved in creating and developing these difficult sites proved to be extremely valuable in his later career.
http://www.thomasdstone.co.uk/
John Anderson – "Gardens of Windsor Great Park"
Tuesday 18th September 2018, 7.30 pm. Hale Village Hall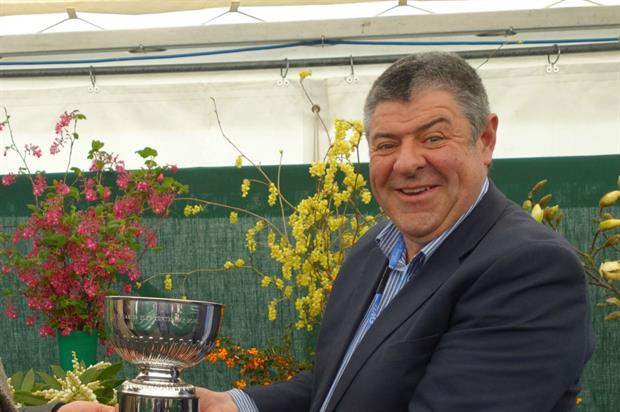 John Anderson is the Keeper of the Gardens for the Crown Estate, which manages the Windsor Estate, including Windsor Great Park. The role encompasses responsibility for 120ha of gardens across the Windsor Estate, including The Savill Garden and The Valley Gardens, as well as the private garden at Frogmore House. John came to the role in 2016 from Exbury Gardens, within the New Forest National Park. He had been head gardener of the 80ha estate since 2005. He studied at the Royal Botanic Gardens, Kew, and the National Botanic Gardens, Dublin, and has held the position of head gardener at both Inverewe and Mount Usher Gardens.
Neil Helyer – "Controlling pests and diseases in your garden and greenhouse"
Tuesday 15th May 2018, 7.30 pm. Woodgreen Village Hall
Neil Helyer is an entomologist with over 25 years experience in research and commercial horticulture. He has worked on the development on new biological control agents and pesticide integration, resulting in numerous scientific papers and other articles. Currently, he is the Integrated Pest Management (IPM) specialist at Fargro Ltd. UK, a leading supplier of horticultural materials.
In this talk, Neil will cover a wide range of pest and disease management techniques, including the use of biological controls for pests like aphids, white fly, spider mites, slugs and snails as well as diseases such as botyritis and mildew. WARNING:  This talk contains sex and violence!
Marina Christopher – "Propagating flowers for summer"
Tuesday 20th March 2018, 7.30pm, Hale Village Hall

Marina Christopher studied biology and ecology before starting life as a nurserywoman in 1984. In 2002 she created Phoenix Perennial Plants, a nursery growing hardy and unusual plants. The nursery's emphasis has always been to provide a balanced ecosystem, of benefit to wildlife, notably insects. Marina regularly supplies plants to top garden designers, including to several large gardens at Chelsea Flower Show each year. In 2006 Marina's first book 'Late Summer Flowers' was published by Frances Lincoln (UK) and Timber Press (US). Marina is an engaging speaker who lectures, writes and presents on gardening extensively.
(see David Mussell's report of this fine talk )
Alan Edmondson – "Gardening for Wildlife"
Tuesday 24th October 2017, 7.30pm, Woodgreen Village Hall

Alan Edmondson (MSc – Planting, Design & Horticultural Consultancy) is a highly experienced and talented horticulturalist, former National Mastermind of Gardening, past president of the National Auricula and Primula Society, award-winning conservationist and regular gardening expert on BBC Radio Solent.
He founded Bowercot Garden Design in 1999 and is responsible for planting design and horticultural consultation.
He lectures country-wide on a range of gardening topics and writes a regular garden column.

Nick Gilbert – "Dahlias"
Tuesday 14th February 2017, 7.30pm, Hale Village Hall
(see David Mussell's report of this fine talk )
"The Dahlia is an amazing plant that will flower from mid-July right through to the first frost, which in some areas can be the end of October or beginning of November. What other plant would give so much joy for such a long flowering period? Whether using the Dahlia in an existing flower border or container, or just for the excitement of growing the perfect bloom for the show bench, it is a flower with so many variations. Some of the two-toned colours look as if they have been created by an artist with great dedication! It is also a flower with blooms of many different sizes and shapes, some as large as dinner plates (ones for the boys) right down to the small, delicate Pom Dahlias. In recent years, the Dahlia has also been used to attract bees to the garden – especially the single-petalled varieties where the pollen is on show from the minute the bud opens."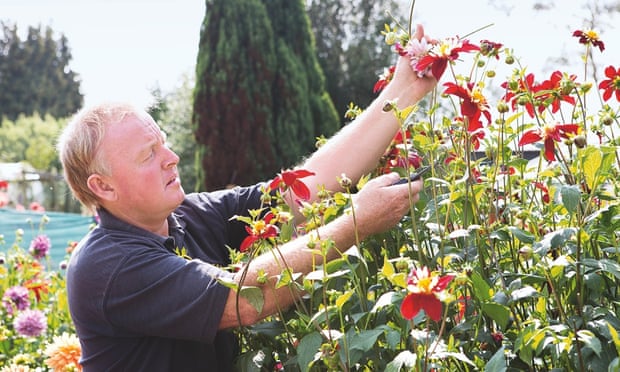 "We are open as a general plant nursery (with a tearoom) all year round, where we also specialise in growing a large selection of unusual perennials as well as stocking a good selection of trees and shrubs and seasonal bedding. The nursery really comes to life during the summer months with our collection of over 400 varieties of Dahlia including our very own new varieties, which can be viewed in the field at our nursery from mid-August until mid-October."
taken from http://www.gilbertsdahlias.co.uk/